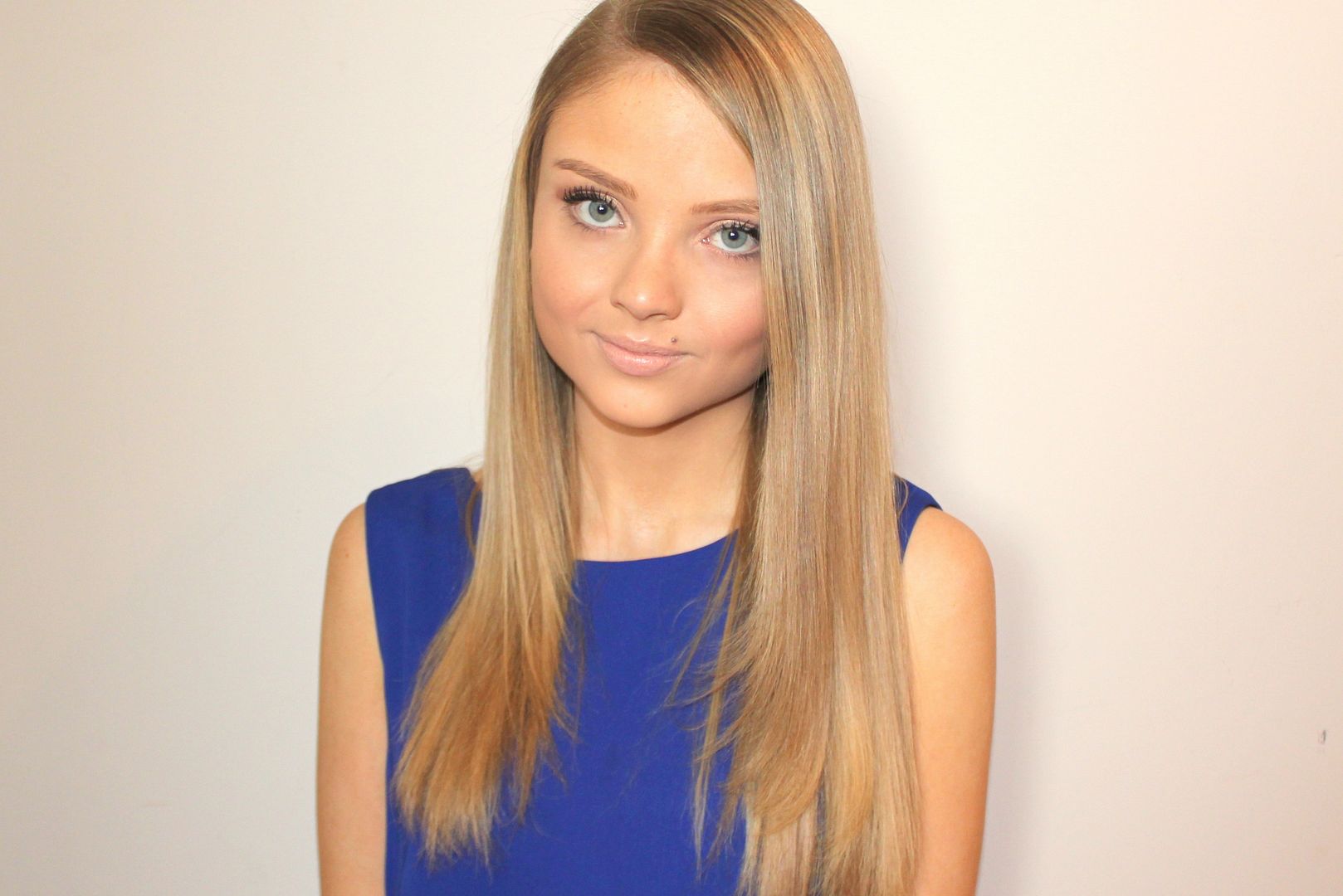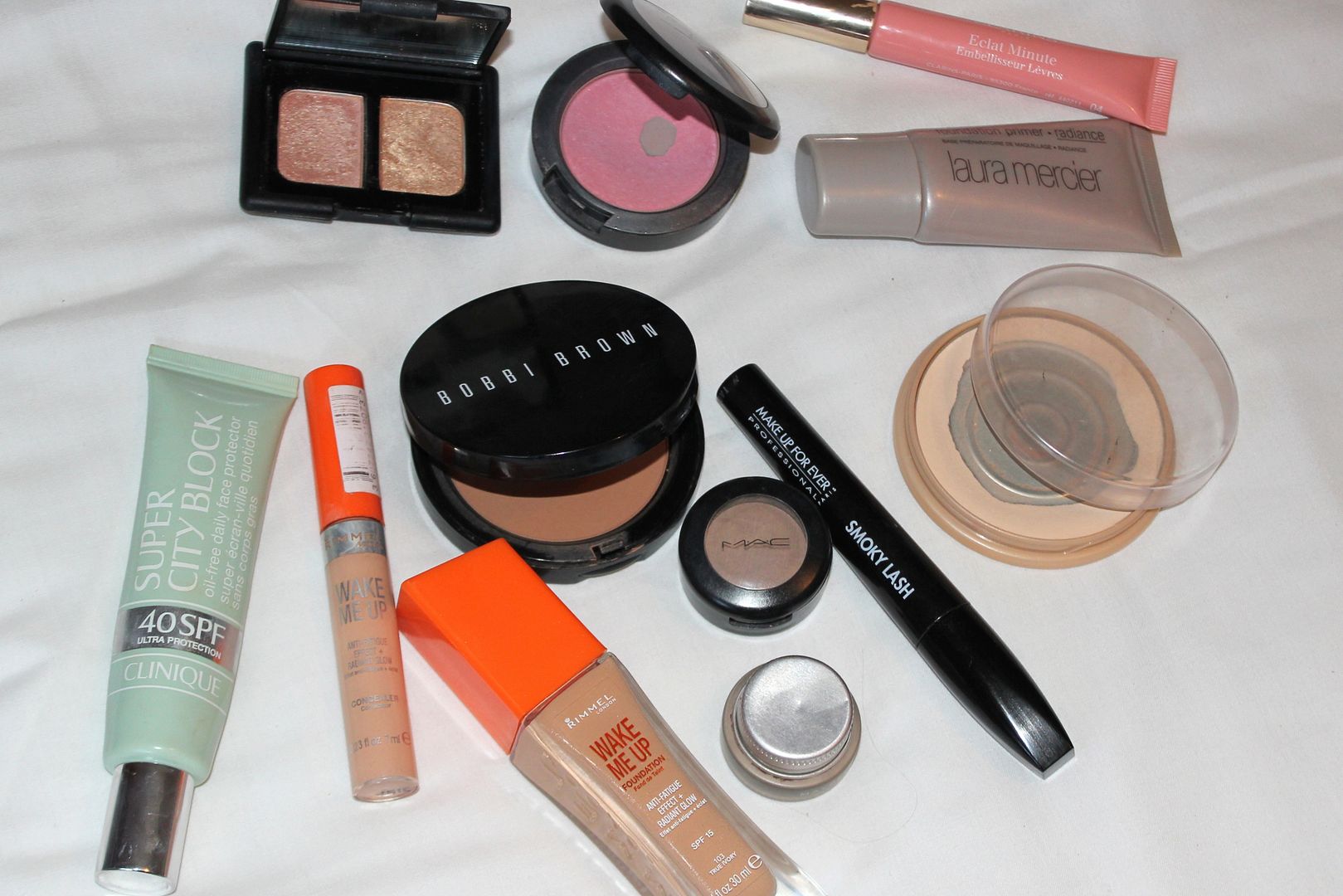 A quick post for the 'Back-to-School' season. I thought I would share my everyday makeup with you all as it's so simple and would make the perfect 'Back-to-School' look.
For my base I used my Clinique Super City Block in SPF 40. I like to wear an SPF on my face everyday, even in the Winter as it really is going to help prevent wrinkles forming and this is my favourite one. It's also available in a lower SPF which I might buy for the colder months. To give my skin a healthy, glowy complexion I used a tiny amount of the Laura Mercier Radiance Primer on my cheeks. Although I think this is a good primer, something like Strobe Cream from Mac would work just as well- it's all about giving your skin that glow under your makeup. I used Rimmel Wake Me Up Concealer under my eyes and the Rimmel Wake Me Up Foundation lightly on the face, working it in well with a Real Techniques Face Brush for a natural finish. They have light reflecting particles for added illumination and last well.
I use a tiny bit of Mac 'Omega' Eyeshadow on an angled brush through my brows for a tiny bit of definition- nothing too 'Scouse Brow'! I washed a small amount of the shimmery shades from my Nars Alhambra Eyeshadow Palette over my eyelids and added a small amount of Bobbi Brown Bronzer into the crease of my eye for added definition with a fluffy brush. I line my eyes with the Maybelline Gel Eye Liner in Brown which is a great dupe for Bobbi Brown's Gel Eyeliner in Chocolate Shimmer Ink at a fraction of the price (and you get a handy brush with the Maybelline one too!). I used Make Up Forever Smoky Lash Mascara on my top lashes only for a more feline effect. I love this mascara, it's honestly the best I've tried- it adds so much volume and length!
On my lips I've kept it simple as this could be a school or everyday look so I don't think a lipstick is necessary. Instead I opted for a Clarins Instant Light Lip Perfector which combines all the benefits of a fabulous vanilla scented lip balm with the pale, milky pinkness of a lip gloss. These are perfect to throw in your handbag or school bag and have a nifty squeeze applicator so you don't ever need a mirror to apply it!
Finally I bronzed the hollows of my cheeks, my temples and my jawline with the Bobbi Brown Bronzer (I have the lightest shade!) and added a tiny amount of Mac Dainty Blush to the apples of my cheeks, for a pretty yet natural pink flush. If you want to highlight your face, you could dust a small amount of the light Nars Eyeshadows on your cheekbones, bridge of your nose and cupids bow for a pretty finish. I don't powder until the very end, and I only powder my T-zone to stop my face looking oily- for this I use Maybelline Stay Matte in Translucent. It's amazing and super cheap too!
So that's my everyday/ natural/ back-to-school makeup look for you all! If you like it I might photograph my usual smoky eye look and explain how I achieve that :)