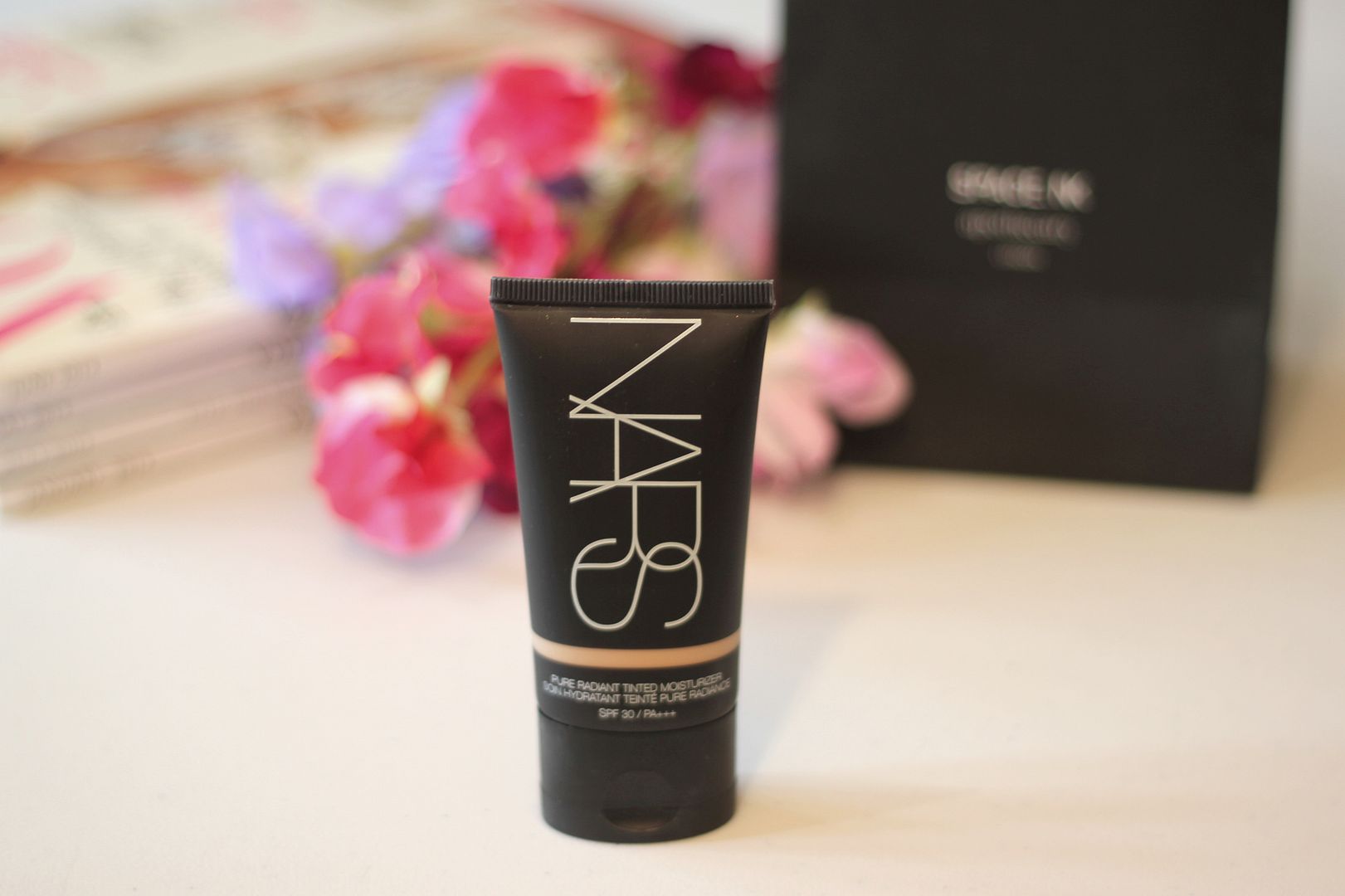 Tinted moisturiser is something I've wanted to get into using for a while now. I'm quite lucky that I have clear, blemish-free skin (most of the time!) and started to find that foundation was getting to heavy feeling on my face. Don't get me wrong, I still adore my Laura Mercier Silk Creme but I wanted something for Summer to see if I could get away with a lighter coverage. This is where the Nars Pure Radiant Tinted Moisturiser steps in. I've heard about it before and notice bloggers were using it but before now was sure that any tinted moisturiser would be too shiny and wear badly on my skin- how wrong I was. When I found out that Suzie from Hello October (

YouTube

&

Blog

) uses this I knew I had to buy it. Her skin always looks flawless and perfect and I wanted mine to look the same so I headed into a Space N.K and purchased the shade St Moritz.
This stuff is incredible! The finish is unlike any tinted moisturiser I have tried- satin but glow-y all at once. Plus, I find this to be as long wearing as a foundation- so no awkward patches on your face with it rubbing off. My skin looks radiant (as the name suggests!) and I feel like it can breathe- it also smells pretty good too. At £29, this tinted moisturiser is quite pricey but it's definitely worth it. It's SPF 30 and has a PA+++ broad spectrum of protection so it's great to take on holiday! You get 50ml of product in the tube which is more than with my regular foundations. If you think your current foundation is too heavy but you are scared of tinted moisturisers, go out and buy this- it's so gorgeous on the skin. I thought I would only really be using this on holiday but I can tell that I'm going to be wearing foundation a lot less because of this- and I love it!
Nars Pure Radiant Tinted Moisturiser (£29)- Space N.K (

link

)