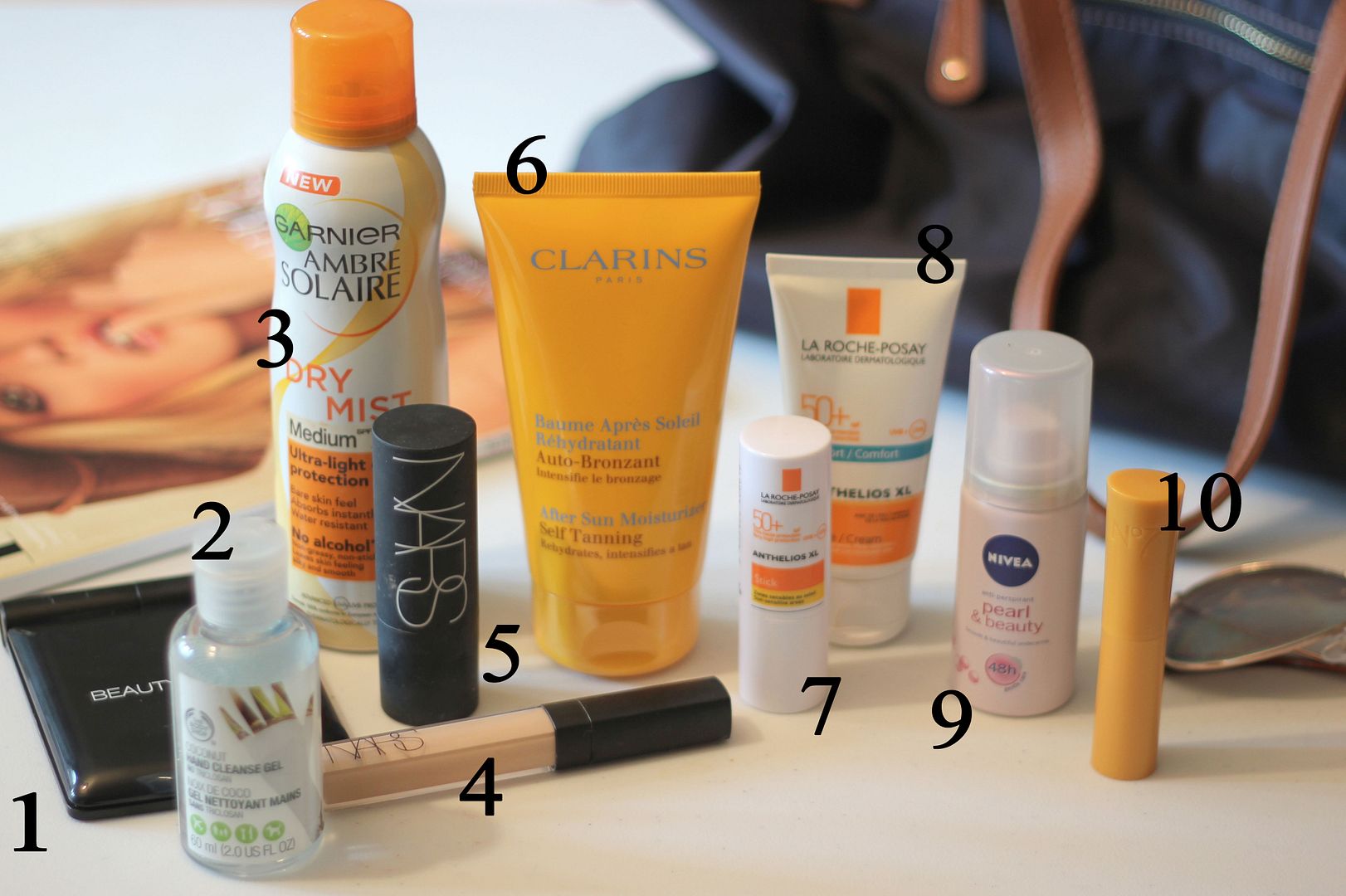 As I'm going on holiday to Marbella in a few days I thought that this would be the perfect opportunity to blog about my top beach essentials. I've bought a HUGE beach bag this year (

link

!) as I like to overpack and be prepared for every occasion. However I have managed to narrow down my top 10 favourite items that I would recommend to anyone going on a beach holiday! Here they are...
1. Beauty Bay Lighted Mirror (

link

)
A portable mirror is a must for me. Even if I'm going to look like a sweaty hot mess I want to know to know about it. This is a great buy at £5 and has a magnified side as well as a normal side. Okay, so the lights aren't essential for the beach, but as a portable makeup mirror, this is a great option. You can just throw it in your clutch on a night out and reapply your lipgloss where ever, even in the back seat of a taxi!
2. The Body Shop Hand Sanitiser (

link

)
This is a great option from The Body Shop! It comes in lots of gorgeous scents, such as this one (my personal favourite) the coconut variety.
3. Garnier Ambre Solaire SPF 30 Dry Mist Sun Screen (

link

)
I always apply my SPF 30 Piz Buin Once-A-Day suncream in the mornings on holiday, but whatever the manufacturer's claims, you should reapply sunscreen throughout the day. I like the Garnie Ambre Solaire SPF 30 Dry Mist. Its so easy to apply and especially useful for the beach as you don't have to wait around for it to dry or worry about sand getting stuck to you!
4. Nars Radiant Creamy Concealer (

link

)
A concealer is one of the only items of makeup I wear on a day-to-day basis on holiday- especially when I'm sunbathing. I don't mind going bare-faced but I like to cover my pesky eye bags (although sunglasses are also helpful for this!).
5. Nars Mutiple in South Beach (

link

)
A gorgeous bronze coloured cream stick product. This Multiple is perfect to swipe on your cheeks, nose and forehead (anywhere that the sun would catch naturally!) for a gorgeous, healthy glow. You can also use it on your lips and eyes too, a clear winner for me.
6. Clarins Aftersun Moisturiser Self Tanning (

link

)
Okay so I not it's not technically a beach product but I love it for holidays! This aftersun is so soothing and creaming- and makes your skin feel so soft! It also contains a tiny amount of fake tan which really enhances your natural glow and speeds things up a bit. A must have.
7.
La Roche-Posay ANTHELIOS STICK SPF50+ 9g
(

link

)
I love the La Roche-Posay SPF50 stick for reapplying to areas I'm more likely to burn. The high SPF is great to use it on my nose, hair-parting and on my feet!
8.
La Roche-Posay ANTHELIOS FACE COMFORT CREAM SPF50+ 50ml (

link

)
A high SPF is essential for you face. So you might want a tanned visage but you'll be left with pigmentation marks and wrinkles when you're older. I use this every day on holiday and use a face self tan in the evenings to ensure my face matches with my body.
This is my favourite deodorant but in miniature form. Beaches get HOT, need I say more?
10.
No7 Anti-Ageing Shimmering Lip & Eye Screen SPF 30 (

link

)
This is a gorgeous product from No
7. Its an SPF lip balm with a subtle shimmer, thus eliminating the need for lipgloss or lipstick on the beach (no more hair-lipgloss moments!). It's SPF 30 so will protect your lips whilst nourishing them.
I hope you enjoyed reading what I'm going to be taking to the beach this year! What are your beach essentials?